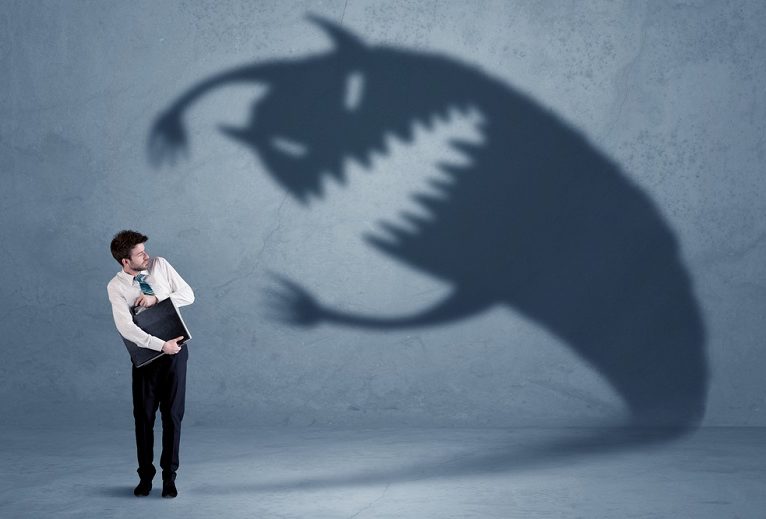 Fear continues long after Halloween ends. The scare factor can be physical – with up to 60% of absences from work being stress-related – or psychological – 1 in 6 workers will experience depression or anxiety during their career. This has real impacts on individual, team and collective wellbeing and engagement: productivity lowers, absenteeism rises, and morale dwindles. The Training Journal states that "by putting your employees into the threat response, you are quite literally making them less intelligent". Fear not only acts as a barrier to personal and professional development, but also to team creativity, innovation and business growth. It's lose-lose.
If this anxiety persists, CIO reports that this will directly lead to underperformance and affected co-worker relationships. This means more confrontation and even greater cost – emotionally and financially. At present, the UK spends £28.5 billion on workplace conflict and 15.4 million working days are lost due to work-related stress, anxiety and depression annually.
The fear factor
One thing is for certain: the world is uncertain. It's constantly changing, with a usual forecast of prevailing doom and gloom. And according to psychologists, there is no "healthy" fear. Scaremongering is always negative, impacting both organisational and individual quality of life. Reasons for workplace fear are often cited as broken relationships, workload, lack of managerial support and organisational change. As pressures mount, stress must be managed – as people perform best when they feel at their best. Organisations that govern fear successfully will experience:
Lower turnover
Lower absenteeism
Fewer grievances filed
Better communication
More coordination
Let's break these fear factors down.
Rotten relationships
If managed badly, disagreements between co-workers can become feuds with fatal consequences for personal wellbeing and business success. Most people fear the possibility of conflict, choosing to repress emotions and mask true feelings. This is ineffective: impacting productivity, performance and presenteeism. The Harvard Business Review writes that being "nice" has significant costs:
"You create relationships that are neither authentic nor constructive. Your health and self-esteem may suffer and you signal that you're a victim. And your organisation loses out as you make compromises with the loudest person in the room, lose the diversity of thinking that's crucial for innovation, or stop producing the best results."
Living in denial isn't always the outcome. Perhaps the conflict has been uncovered, culminating in confrontation. The route of formal litigation is taken to resolve the conflict, resulting in drawn-out assessments, interviews and judgments. The relationship may be irreparable, teams forever changed, and workplace culture affected long-term.
Lousy leadership
It is the duty of leaders and managers to guide, support and protect their teams. But when leaders are instead ruled by anger, frustration and impatience, their employees can be driven to fear. Rather than thriving, colleagues are simply surviving.
"A culture of blaming, punishment, inflexibility and insensitivity only pushes people away. Employees want managers who are leaders. Managers who will inspire them, who are fair and honest and will stand up for their team."
Brigette Hyacinth, author of Leading the Workforce of the Future
A Gallup poll surveying over one million workers concluded that 75% of workers voluntarily leave their jobs because of their bosses and not the position itself. In fact, having a bad boss raises a worker's chance of having a heart attack by 60%. This management-induced stress suffocates, demoralises, and punishes employees. It doesn't matter how good the job is – it is up to our leaders to ensure we feel safe, supported, with manageable workloads and a firm future ahead of us.
Repair and recovery
If we can reduce the risk of fear in the workplace, we'll be protecting our staff, teams and businesses. Refocusing the emphasis to a people-centred, values-based approach can greatly enhance wellbeing and engagement within the workplace.
Relationships can be rebuilt not through divisive litigation procedures, but through restorative mediation and facilitation. A movement to open and honest dialogue, collaboration and compassion gets to the root of issues, provides mutually agreeable outcomes, and thus eases fear.
Leaders should be trained as a priority to reflect and exude this person-centred ideology. Executing methods of clear communication to have quality conversations, making efforts to understand workers and their individual needs, and prioritising healthy and harmonious teams. Proactively dealing with concerns and tackling signs of conflict will keep those anxieties at bay. There'll be more time for the important stuff: creativity, innovation and growth.
Remember it's people you are dealing with, not statistics. Treat them as humans – with kindness, compassion and integrity – and watch fear subside in the face of collective health and success.
Robyn Marsh: Senior Communications Executive at The TCM Group
You may also like to read